8 juin 2012
5
08
/

06
/

juin
/

2012
09:00
Jeudi dernier, je suis montée sur Paris pour rencontrer Virginie et Claire ainsi que l'un de leur ami. Nous nous rencontrions pour bosser sur ma thèse, mais bien sûr nous avons pris un peu de temps pour faire un saut chez Kiko ! Et j'ai fait quelques achats ! Les vernis étaient en promo à 2,50 euros et les pinceaux à 1,50 euros !
Last Thursday, I travelled to Paris to meet Virginie and Claire and one of her friend. We meet each other to work on my thesis, but of course, we took a little time to go to Kiko shop! I made some purchases, nail polishes were at 2,50 euros and brushes at 1,50 euros!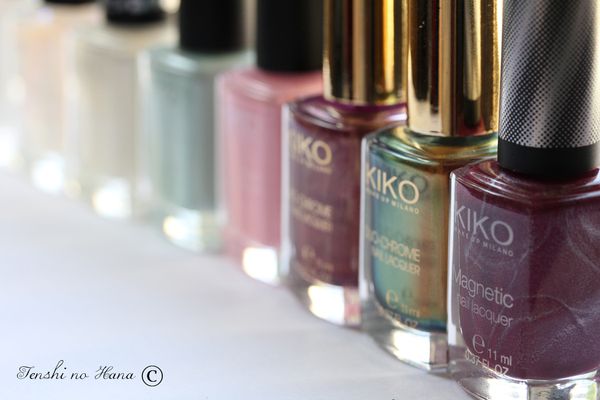 Aujourd'hui je vous présente donc le Light Gold qui est un vernis craquelé blanc irisé d'or ! Je l'ai posé sur le superbe 338 de la même marque. Moi qui ne suis pas fane des craquelé blanc qui me font souvent penser à du tipex, j'aime celui-ci qui a un effet beaucoup plus discret et naturel.
Today I present you the Light Gold which is a crackle nail polish. It is white frosted by gold reflections! I apply it on the superb 338 by Kiko. Usually I am not very fane of white crackled polishes which makes me think of Tipex, but I like very much this one because it has a more discreet and natural finish.