25 juin 2011
6
25
/

06
/

juin
/

2011
09:00
Il s'agit de la nouvelle mini collection estivale de chez Lm Cosmetic. Elle est composée du vernis Mooréa et d'une huile cuticule senteur Monoï !
Autant vous le dire tout de suite je suis dingue de cette huile ! Si je pouvais je m'hydraterais le corps entier avec cette huile tant elle sent bon lol
This is the new mini-collection from LM Cosmetic for the summer. It consists of the polish Mooréa and a monoï-scented cuticle oil!
Let's get that clear, I'm completely crazy about the oil! If I could, I would put it all over my body, it smells soooo good!!!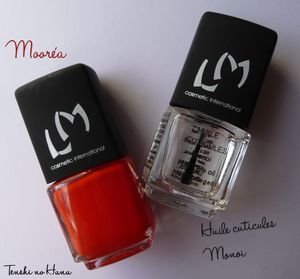 Mooréa, quant à lui, est un joli vernis rouge orangé (plus orangé que rouge) très vif. Il paraît être un dupe du fameux Aloha de Dior mais je n'ai pas le Dior pour comparer moi-même.
Pour tout vous dire, j'avais très peur de cette teinte et de l'effet qu'il aurait avec ma carnation très claire. Et en fait, non, il est génial ! Je l'adore sur peau claire, je pense qu'il serait également superbe sur peau matte, bref, je pense qu'il peut aller quasi à tout le monde. Bon il ne faut pas avoir peur des teintes flashy mais je le trouve parfait pour l'été !
Mooréa is a pretty reddish orange (more orange than red), very bright. It's supposed to be a dupe of Dior Aloha but I don't have the Dior so I can't compare.
To be honest, I was a bit scared of that colour on my fair skin. But no, it's fantastic!! It's really really beautiful on me, I think it'd be very nice on tanned skin, well, it's really a polish for everyone. OK, it's not for the faint of heart, the colour is really flashy, but for summer, it's just great!!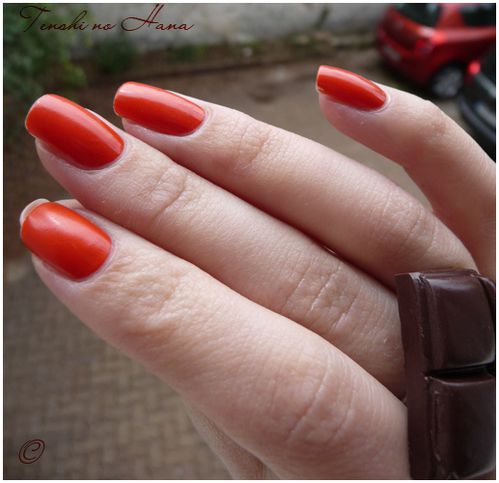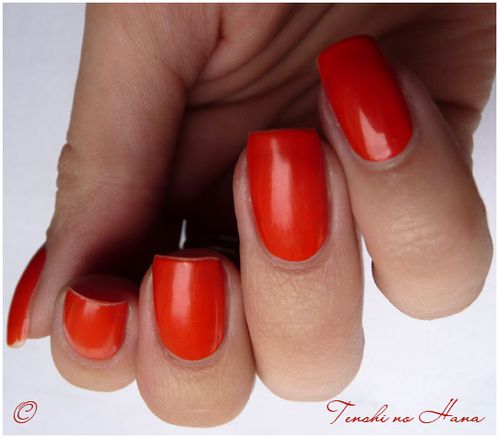 2 couches – sans top coat

Application : très bonne
Opacité : parfaite en 2 couches
Texture : très bonne
Séchage : normal à rapide

2 coats, no top-coat

Application: very good
Pigmentation: perfect in 2 coats
Texture: very good
Drying time:normal to fast